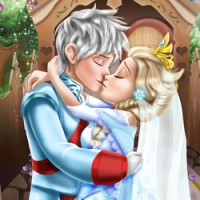 "Ice Queen Wedding Kiss" is a mobile game that combines the thrill of a romantic wedding with the excitement of a kissing game. In this game, players take on the role of a handsome groom who must try to steal kisses from his bride, the beautiful Ice Queen, without being caught by the wedding guests or her watchful bridesmaids.

Players must navigate various levels, each with its own set of challenges and obstacles, to successfully steal kisses from the Ice Queen. These obstacles can include everything from guests who are watching too closely to her own bridesmaids who are trying to stop the groom from getting too close.

To win each level, players must make sure that they avoid getting caught while stealing kisses, and they must also fill up the kiss meter to progress to the next level. The game also features various power-ups, such as heart balloons and love letters, which can help players to overcome the obstacles and fill up the kiss meter faster.

With its cute graphics, romantic storyline, and challenging gameplay, "Ice Queen Wedding Kiss" is a fun and addictive game that will keep players entertained for hours.
1. Start the game by clicking on the app icon on your mobile device.

2. Select the level that you want to play.

3. Your objective is to help the Ice Queen and her prince kiss without getting caught by the guests or the guards. Tap and hold the screen to make them kiss.

4. Release your finger when someone is about to catch them.
5. Collect coins as you progress through the levels.

6. Use the coins to unlock new levels or buy items to help you complete levels.

7. Keep playing until you complete all the levels and make the Ice Queen's wedding day special.