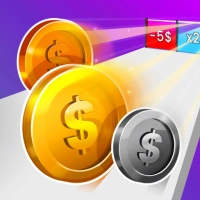 Money Rush is an exciting and addictive mobile game that challenges players to collect as much cash as possible while avoiding obstacles and traps. With simple one-touch controls and colorful, cartoonish graphics, Money Rush is easy to learn and fun to play for all ages.

In Money Rush, players control a cute little character who is running through a series of levels filled with coins, bills, and other valuable items. The goal is to collect as much money as possible while avoiding obstacles such as spikes, bombs, and other hazards.

Players can use the coins they collect to unlock new characters and power-ups, such as shields and magnets that attract coins. They can also use their earnings to upgrade their characters' abilities, such as speed and jump height.

The levels in Money Rush are randomly generated, so each playthrough is unique and challenging. There are also boss battles at the end of each level, where players must face off against challenging enemies to earn even more cash.

With its addictive gameplay, colorful graphics, and simple controls, Money Rush is a fun and exciting mobile game that is sure to keep players coming back for more. So grab your phone and start collecting that cash!
1. Tap the screen to start the game.

2. You will see a money stack moving forward.

3. Swipe left or right to avoid obstacles and collect money.

4. Avoid hitting the obstacles, or the game will be over.

5. Collect as much money as possible to get a high score.

6. You can use the money to buy new skins for your money stack.

7. Keep playing to beat your high score and challenge your friends.