Mermaid Baby Feeding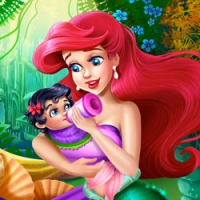 Mermaid Baby Feeding is a mobile game that allows players to take care of a cute and adorable mermaid baby. The game is all about making sure that the baby is well-fed, healthy and happy.

In this game, you play the role of the mermaid baby's caregiver, and your goal is to feed her as many yummy treats as you can. The game features a wide range of delicious foods and drinks that you can give to the baby. From fruit smoothies and cupcakes to hamburgers and pizza, there is no shortage of tasty treats to choose from.

The game features easy-to-use controls that allow you to choose the food items that you want to give to the baby. Simply tap on the food or drink that you want to feed her, and she will happily gobble it up. You can also choose to give her water or milk to keep her hydrated and healthy.

As you feed the mermaid baby, you will notice her getting happier and more satisfied. You will also be able to see her health meter go up, indicating that she is getting the nutrition she needs to grow big and strong.

In addition to feeding the baby, you can also play mini-games to earn coins and unlock new food items. These mini-games are fun and engaging, and they add an extra layer of excitement to the overall gameplay.

Overall, Mermaid Baby Feeding is a fun and enjoyable game that is perfect for anyone who loves taking care of cute and cuddly babies. With its simple gameplay, adorable graphics, and wide range of food items to choose from, it's a game that you can easily get lost in for hours on end.
Information
Game category: Caring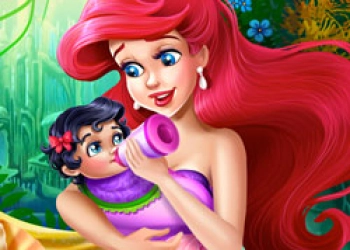 Game Rating: 80%

PLAY
How to play this game:
1. Start the game by tapping on the game icon on your mobile device.

2. On the game's main screen, you'll see the adorable little mermaid baby waiting for her meal.

3. You need to feed her by tapping and holding the milk bottle and dragging it towards her mouth.

4. Make sure the bottle is positioned correctly in the baby's mouth, and then release your finger to start the feeding process.

5. You'll see the baby drinking the milk and her hunger level decreasing.

6. Keep feeding the baby until her hunger level is full, and she's satisfied.

7. Once the baby is full, you can tap on the decoration icon on the screen to customize her look and add accessories.

8. You can change her hairstyle, crown, outfit, and add some cute accessories like bows, pacifiers, or toys.

9. After you're done customizing, you can save your creation and share it with your friends on social media or save it to your device's photo gallery.

10. Congratulations! You've successfully played Mermaid Baby Feeding.