Rainbow Pony Caring
Rainbow Pony Caring is a fun mobile game that lets you take care of your very own rainbow pony! You will need to feed, bathe, groom, and play with your pony to keep it healthy and happy.

The game features a beautiful and colorful world full of different areas to explore, including the pony's stable, the garden, and the beach. Each location has unique activities and items for you to interact with, so there's always something new to discover.

To start, you will need to choose your pony and give it a name. Then, you will need to feed your pony by selecting the right type of food and watching as it happily munches away. You can also give your pony water to drink and make sure it stays hydrated.

Next, you will need to give your pony a bath by selecting the shampoo, soap, and water. Use the sponge to scrub your pony clean and make sure to rinse it off with water. After the bath, you can use a towel to dry your pony and make sure it's warm and cozy.

Once your pony is clean and dry, it's time to groom it by brushing its mane and tail, and combing its fur. You can also style your pony's mane and tail with different accessories, like ribbons and bows.

Finally, it's playtime! Take your pony for a walk in the garden or to the beach to play with toys and games. You can even take your pony on a ride and explore the world around you.

With so much to do and explore, Rainbow Pony Caring is the perfect game for anyone who loves animals and adventure. So saddle up and get ready for a magical journey with your very own rainbow pony!
Information
Game category: Girls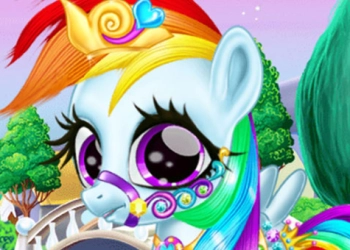 Game Rating: 81%

PLAY
How to play this game:
1. Start by selecting a cute little rainbow pony that you want to take care of.

2. The pony will need your help with different tasks such as feeding, cleaning, and playing.

3. You can feed the pony by dragging the food items to its mouth. You need to make sure that the pony is not hungry and thirsty.

4. To clean the pony, drag the sponge over its body to remove dirt and then use the shower to rinse it off. You can then use a towel to dry the pony.

5. Play with the pony by choosing a game from the game menu. You can choose from different games such as jumping, catching apples, and running.

6. You can also accessorize the pony by choosing from different colorful items such as ribbons, hats, and wings.

7. Keep an eye on the pony's mood meter to make sure it's happy and satisfied.

8. Once you're done taking care of the pony, you can take a screenshot of it and share it with your friends.