Snow White Mommy Real Makeover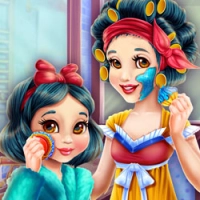 "Snow White Mommy Real Makeover" is a mobile game where players help Snow White, the fairytale princess, get ready for a day with her little daughter. As the title suggests, this game focuses on a real makeover, which involves various beauty treatments and dress-up options.

The game begins with Snow White waking up and realizing she has very little time to get ready for the day ahead. The player's job is to help her out by applying different beauty treatments, such as facial masks and scrubs, to give her skin a refreshed look. Next, players can help Snow White pick out a new hairstyle and apply some makeup to complete the transformation.

Once Snow White is all done up, she can spend some time with her daughter, who will join her in playing some mini-games. Players can help the little girl paint, bake cookies, and engage in other fun activities. They can also help Snow White dress up her daughter in cute outfits, matching her own style.

As the game progresses, players can unlock new beauty treatments, hairstyles, and clothing options, allowing them to create even more unique looks for Snow White and her daughter. With its adorable graphics and engaging gameplay, "Snow White Mommy Real Makeover" is a fun and entertaining game for all ages.

Overall, the game is designed to provide a relaxing and enjoyable experience for players who enjoy dress-up games and beauty treatments. It's a great choice for those who are fans of Snow White or are simply looking for a fun and engaging mobile game.
Information
Game category: Real_makeover
Game Rating: 86%

PLAY
How to play this game:
1. Start by clicking on the game icon to open it on your mobile device.

2. On the main menu, click on "Play" to start the game.

3. You will be taken to the makeover screen where you can see Snow White and her baby. The screen will display various makeup and skincare tools at the bottom of the screen.

4. Begin by selecting the skincare tools, such as moisturizer, face wash, and toner, to prepare Snow White's skin for the makeup.

5. Use the makeup tools to apply foundation, blush, and eyeshadow. You can also change the color of her lipstick and apply mascara to her eyelashes.

6. Once you are satisfied with Snow White's makeup, move on to her hair. Select different hairstyles and hair colors to give her a new look.

7. Finally, you can select different outfits and accessories for Snow White to wear. Choose from a variety of dresses, shoes, jewelry, and handbags to complete her look.

8. When you are done, click on "Done" to see the final results of your makeover.

9. You can take a screenshot of your creation to save and share with your friends on social media.

10. If you want to play the game again, click on "Replay" to start over.