Om Nom Bounce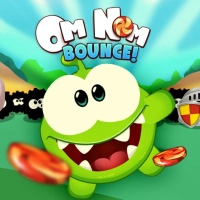 Om Nom Bounce is a fun and addictive mobile game that combines elements of physics, strategy, and skill. The game features the beloved character Om Nom from the Cut the Rope franchise, and challenges players to help him bounce through a series of obstacles and collect candy along the way.

The gameplay is simple yet challenging. Players must swipe to aim and release Om Nom to launch him through the air. Along the way, he must avoid obstacles such as spikes, flames, and other hazards, while collecting candy and power-ups to help him on his journey.

Players can earn stars by completing levels quickly and collecting all the candy, and can use these stars to unlock new levels and purchase power-ups to make the game easier. There are over 100 levels to play, each with its own unique challenges and obstacles.

One of the key features of Om Nom Bounce is its physics-based gameplay. Players must carefully time their launches and consider the trajectory and momentum of Om Nom in order to successfully navigate each level. The game also features a variety of power-ups such as boosters, magnets, and shields, which can help players overcome particularly challenging obstacles.

In addition to the main levels, Om Nom Bounce also features daily challenges and special events, which offer even more opportunities for players to earn rewards and show off their skills.

Overall, Om Nom Bounce is a fun and engaging mobile game that is sure to keep players entertained for hours. With its cute graphics, intuitive controls, and challenging gameplay, it's a must-play for fans of physics-based puzzle games and the Cut the Rope franchise.
Information
Game category: Arcade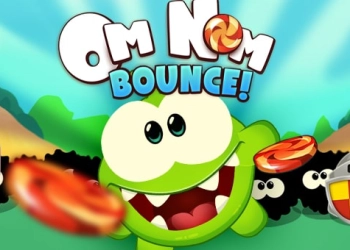 Game Rating: 66%

PLAY
How to play this game:
1. Launch the game and select a level: When you launch the game, you'll be presented with a variety of levels to choose from. The first few levels serve as tutorials to teach you the game mechanics, so start with those if you're new to the game.

2. Guide Om Nom to the end: Each level is a unique maze filled with obstacles, including moving platforms, spikes, and other hazards. Your goal is to guide Om Nom to the end of the level by bouncing him off of walls and other objects.

3. Use power-ups: Along the way, you'll encounter power-ups that can help you complete levels more easily. These include items like magnets that attract Om Nom to nearby objects, and shields that protect him from hazards.

4. Collect stars: Each level has three stars that you can collect by bouncing Om Nom into them. Collecting all three stars in a level will unlock new levels and earn you in-game currency.

5. Avoid hazards: There are a variety of hazards that can kill Om Nom, including spikes, moving objects, and gaps in the level. Try to avoid these hazards as much as possible to keep Om Nom alive.

6. Experiment with different strategies: As you progress through the game, you'll encounter increasingly complex levels with more challenging obstacles. Experiment with different strategies to find the best way to guide Om Nom to the end of each level.