Ice Princess Nails Spa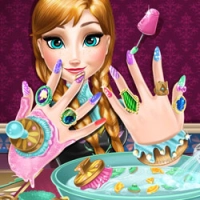 "Ice Princess Nails Spa" is a mobile game where players get to give the Ice Princess a luxurious spa experience for her nails. In the game, the Ice Princess has been very busy lately and hasn't had the time to take care of her nails, so she comes to the salon to get some pampering. As the player, you get to be the nail technician and give her nails a makeover.

The game features different levels, each with a unique set of challenges and tasks. At the beginning of each level, the player gets to choose the nail shape and length, and then proceed to clean and file the nails. Then, the player can choose from a variety of nail polish colors and designs to paint the nails. The game also includes different types of nail art and stickers that the player can use to decorate the nails.

In addition to nail painting, the game also includes a spa section where the player can give the Ice Princess's hands a relaxing massage and moisturize them with lotion. The player can also add accessories such as rings and bracelets to complete the look.

Overall, "Ice Princess Nails Spa" is a fun and engaging game that allows players to use their creativity to give the Ice Princess the perfect manicure.
Information
Game category: Makeover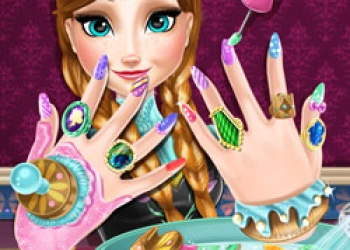 Game Rating: 88%

PLAY
How to play this game:
1. Launch the game: First, you need to launch the game on your mobile device.

2. Choose a hand: After launching the game, you will be taken to the game's main screen where you need to choose which hand you want to work on. You can select the left or right hand.

3. Clean the hand: Once you have selected the hand, you need to clean it using a brush and water. You will see dirt and grime coming off the hand as you clean it.

4. Shape the nails: After cleaning the hand, you need to shape the nails using a file. You can choose the shape of the nails as per your preference.

5. Choose a nail color: Once the nails are shaped, you need to choose a color for the nails. You can choose from a variety of colors and patterns to create a unique look.

6. Apply the color: Once you have selected the color, you need to apply it to the nails. You can also add some designs and patterns using different colors.

7. Add some bling: You can also add some bling to the nails by adding stickers, jewels, and other accessories.

8. Dry the nails: Once you have finished decorating the nails, you need to dry them using a dryer.

9. Take a photo: Finally, you can take a photo of the hand with the decorated nails and save it to your device.