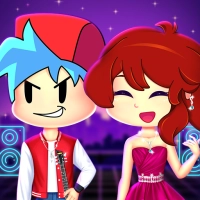 Friday Night Funkin' is back with a brand new adventure, and this time it's all about love! In Friday Night Funkin First Date, you play as our beloved protagonist Boyfriend, as he tries to win over his girlfriend's heart on their first date. The catch? You'll have to do it through the power of rhythm and music!

With stunning retro-inspired graphics and a catchy soundtrack, Friday Night Funkin First Date will have you tapping your feet and nodding your head along to the beat. Navigate through multiple levels, each with its own unique music track, and face off against a variety of funky opponents who will try to throw you off your game.

The game features three difficulty levels: easy, medium, and hard, allowing players of all skill levels to enjoy the game. Tap the arrows on your screen in time with the beat to progress through the levels and show off your rhythm skills. And don't forget to impress your date with your moves on the dance floor!

So get ready to groove and show off your skills in Friday Night Funkin First Date, the ultimate music and rhythm game for mobile.




To play Friday Night Funkin First Date just use your finger on mobile or tablet. If you are playing Friday Night Funkin First Date on your desktop - use your mouse and keyboard.