Hamburger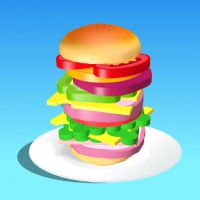 Hamburger is a fun and addictive game that challenges you to create your own perfect hamburger. The game has a simple and intuitive interface that allows you to easily add and remove various ingredients to build your ideal burger.

At the start of the game, you are presented with a bun and a selection of ingredients such as cheese, onions, lettuce, tomatoes, and more. Your goal is to arrange the ingredients in the right order and in the right proportions to create a tasty and visually appealing burger.

To do this, you use a swipe-based control system to move the ingredients around the screen and place them in the desired location. You need to plan your moves carefully and think strategically to make the most of the limited space on the burger bun.

As you progress through the game, you unlock new ingredients and more challenging levels that test your burger-building skills. You can also compete with friends and other players around the world to see who can create the most delicious and visually impressive burger.

Overall, Hamburger is a fun and addictive game that will keep you entertained for hours. With its intuitive controls, colorful graphics, and challenging gameplay, it's a must-play for any fan of mobile games.
Information
Game category: Hypercasual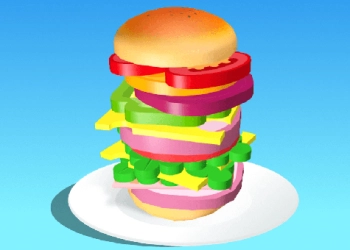 Game Rating: 78%

PLAY
How to play this game:
1. Start by selecting a bun for your hamburger. You'll see a variety of options to choose from, including sesame seed buns, pretzel buns, and more.

2. Once you've chosen your bun, you'll need to add your ingredients. You'll see a list of ingredients on the left side of the screen, including beef patties, cheese, onions, lettuce, tomatoes, and more. Swipe each ingredient onto your burger in the order you prefer.

3. As you add ingredients, you'll need to balance your burger carefully. The more ingredients you add, the harder it will be to balance. Use your finger to move ingredients around and adjust the burger as needed.

4. When you're finished adding ingredients, tap the "Finish" button to complete your burger. You'll see a score based on how well you balanced your burger.

5. Want to try again? Tap the "Try Again" button to start over and create a new burger. You can experiment with different ingredients and buns to create the perfect burger every time.