Talking Baby Ginger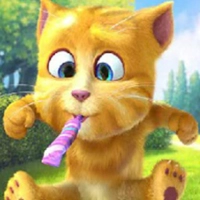 Talking Baby Ginger is a fun and interactive virtual pet game for mobile devices that allows players to take care of an adorable baby kitten named Ginger. This game is perfect for animal lovers and players of all ages who enjoy playing with virtual pets.

In Talking Baby Ginger, players are responsible for taking care of Ginger by feeding her, playing with her, bathing her, and putting her to bed. The game offers various activities that players can engage in, including mini-games, dress-up, and photo sessions with Ginger. The game also includes a range of cute and funny animations, sound effects, and interactive features that make the game more engaging and enjoyable.

One of the main features of Talking Baby Ginger is the ability to talk to Ginger and have her repeat what you say in a cute and funny voice. Players can also interact with Ginger by petting her, tickling her, and playing games with her. The game also includes a range of different costumes and accessories that players can use to dress up Ginger and make her look even cuter.

Overall, Talking Baby Ginger is a fun and entertaining virtual pet game that offers a range of activities and interactive features for players to enjoy. With its cute graphics, funny animations, and engaging gameplay, this game is sure to keep players entertained for hours on end.
Information
Game category: Arcade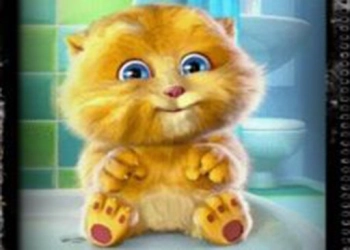 Game Rating: 77%

PLAY
How to play this game:
1. Meet Ginger: The game will open with a cute baby ginger cat named Ginger sitting in front of you. Tap on her to interact with her and start taking care of her.

2. Feed and water Ginger: You will see a bowl of food and water on the left side of the screen. Tap on them to feed and water Ginger. Keep an eye on the food and water levels, as Ginger will get hungry and thirsty over time.

3. Play with Ginger: Tap on the toys icon at the bottom of the screen to see a range of toys to play with. You can play catch with a ball, make Ginger jump with a trampoline, or pop bubbles with her. Ginger loves playing, so make sure you keep her entertained!

4. Dress up Ginger: Tap on the wardrobe icon at the bottom of the screen to see a range of outfits for Ginger. You can change her clothes, hats, and even her accessories to make her look cute and stylish.

5. Talk to Ginger: Tap on the microphone icon at the bottom of the screen to talk to Ginger. She will repeat whatever you say in her cute little voice. You can also record videos of Ginger and share them with your friends.

6. Put Ginger to bed: At the end of a long day of playing, it's time to put Ginger to bed. Tap on the bed icon at the bottom of the screen to put her to sleep. Make sure she's comfortable and tucked in, and then turn off the lights.