Talking Tom Hidden Stars
Talking Tom Hidden Stars is a fun and entertaining puzzle game for mobile devices. The game features Talking Tom, the popular animated cat, and challenges players to find hidden stars in a variety of different scenes.

In each level, players are presented with a colorful and detailed scene featuring Talking Tom and his friends. The goal is to find all of the hidden stars scattered throughout the scene before time runs out. Stars can be hidden behind objects, in the background, or even hidden within other objects.

To find the hidden stars, players will need to tap and swipe on the screen to move objects and uncover new areas of the scene. The game also includes hints that players can use if they get stuck or are having trouble finding a particular star.

As players progress through the levels, the scenes become more complex and the stars become more challenging to find. There are dozens of levels to play through, each with its own unique scene and set of hidden stars.

Talking Tom Hidden Stars is a great game for all ages and offers hours of fun and engaging gameplay. The game features cute and colorful graphics, fun sound effects, and intuitive controls that make it easy for players to jump right in and start playing.




Information
Game category: Puzzles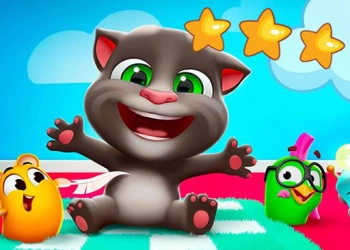 Game Rating: 69%

PLAY
How to play this game:
1. Start the game: Open Talking Tom Hidden Stars on your mobile device and tap on the "play" button to start the game.

2. Find hidden stars: Your goal is to find all the hidden stars in each level. You'll need to look closely at the picture and tap on any stars you see.

3. Use hints: If you're having trouble finding a star, you can use a hint. Tap on the lightbulb icon in the bottom left corner to get a hint. You'll need to watch an ad in order to use a hint.

4. Complete levels: Once you've found all the stars in a level, you'll move on to the next one. There are many levels to complete, each with its own unique picture and hidden stars.

5. Collect coins: As you play the game, you'll collect coins. You can use these coins to unlock new pictures and themes.

6. Try timed mode: If you want an extra challenge, try playing in timed mode. In this mode, you'll need to find all the hidden stars before the time runs out.

7. Enjoy the game: Talking Tom Hidden Stars is a fun and relaxing game that's perfect for all ages. So sit back, relax, and enjoy the search for hidden stars!