Super Barbara Real Haircuts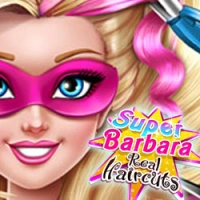 Get ready to unleash your inner hairdresser with Super Barbara Real Haircuts! In this exciting mobile game, you get to help Super Barbara, the caped crusader, achieve her dream hairdo. With your expert hairdressing skills, you'll have her looking her best in no time.

You'll start by washing and blow-drying Barbara's hair to get it ready for styling. Once it's prepped, it's time to get creative! Cut, curl, straighten, and dye Barbara's hair in a variety of styles and colors. Will you give her a bold new look or keep it classic and chic? The choice is yours!

But that's not all - you'll also get to accessorize with hair clips, bows, and headbands to complete the look. And once you're finished, you can snap a picture and save your creation to show off to your friends.

With its simple, intuitive gameplay and gorgeous graphics, Super Barbara Real Haircuts is the perfect game for aspiring hairdressers of all ages. So what are you waiting for? Let's get styling!
Information
Game category: Real_haircuts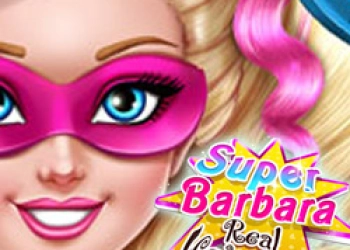 Game Rating: 79%

PLAY
How to play this game:
1. Launch the game on your mobile device.

2. You will be taken to the main menu where you will see the option to play the game. Click on the "Play" button to start the game.

3. You will be taken to the hair salon where you will see Barbara sitting on the chair. The game screen is divided into two parts - on the left side, you will see the tools, and on the right side, you will see Barbara and her hair.

4. Use the different tools on the left side of the screen to style Barbara's hair. You can use the comb to straighten or detangle her hair. You can use the scissors to cut her hair to your desired length. Use the curling iron to curl her hair, and the straightener to make it straight. You can also use hair dye to color her hair.

5. Once you're done styling Barbara's hair, you can add different hair accessories to complete the look. You can choose from different hairbands, ribbons, and clips.

6. When you're done with the styling, you can take a picture of your creation by clicking on the camera icon on the bottom right corner of the screen.

7. If you're not happy with the hairstyle, you can always undo the changes or start over by clicking on the "Reset" button on the bottom left corner of the screen.

8. When you're finished, you can click on the "Done" button to see the final result of your work.