Ice Princess Hospital Recovery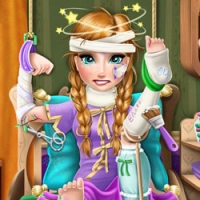 Ice Princess Hospital Recovery is a mobile game that allows you to play the role of a doctor who treats patients in a hospital. In this game, you will take care of the beautiful ice princess who has been injured in an accident. Your job is to use your medical skills to treat her wounds, and make her feel better.

The game starts with a scene of the princess lying in a hospital bed, looking injured and in pain. As the doctor, you will begin by examining her to determine the extent of her injuries. You will then use a variety of tools and medical equipment to clean and dress her wounds, and administer medication to relieve her pain.

The game also involves a mini-game where you will help the princess to recover by completing various tasks, such as feeding her, giving her medicine, and helping her to rest. You will need to pay close attention to her needs and respond quickly to keep her healthy and happy.

As you progress through the game, you will earn points and rewards for your efforts, which can be used to unlock new medical tools and equipment to make your job easier. With a range of challenging levels and realistic medical scenarios, Ice Princess Hospital Recovery is a fun and engaging game that is perfect for players of all ages.
Information
Game category: Doctor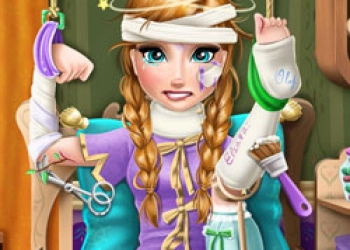 Game Rating: 81%

PLAY
How to play this game:
1. Start by clicking on the game icon on your mobile device to launch it. Once the game has loaded, you will see the title screen.

2. Click the "Play" button to start the game.

3. You will see the game's story, where the Ice Princess has had an accident and needs medical attention. The first task is to help the princess by removing all the dirt and dust from her wounds. To do this, use a cloth to clean the wound area.

4. Next, apply some antiseptic lotion to the wounds to help prevent infection. After that, you need to use a syringe to inject some painkillers into the princess's body to help her with the pain.

5. Once you have completed the medical procedure, you need to help the princess to relax. You can do this by using a hairdryer and a fan to help her cool down.

6. The next step is to help the princess dress up. You can choose from a range of clothing options, such as dresses, tops, skirts, and accessories like earrings, necklaces, and tiaras. Select the clothes that you think will look best on the princess.

7. After the princess has dressed up, she will be ready to leave the hospital. Click on the "Next" button to complete the game and see the final results of your work.

8. Congratulations, you have completed the game! You can play again by clicking the "Play Again" button, or choose a different game from the game menu.