Cut The Rope 2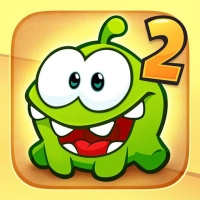 Cut the Rope 2 is a popular puzzle game developed by ZeptoLab. It is the sequel to the highly successful game Cut the Rope, and has become a fan favorite on both iOS and Android platforms.

In the game, the player takes on the role of a friendly little creature called Om Nom who has an insatiable appetite for candy. The candy is suspended by ropes, and the player must cut the ropes to make the candy fall into Om Nom's mouth.

Cut the Rope 2 features over 160 levels across various worlds with different challenges and obstacles to overcome. The game also introduces new characters, the Nommies, who can help Om Nom on his candy-collecting journey. Each Nommie has its unique ability that the player can use to solve puzzles.

The game's mechanics are simple but challenging. The player must cut the ropes at the right time and in the right sequence to make the candy fall into Om Nom's mouth while collecting stars to unlock new levels and worlds.

Cut the Rope 2 also features boss levels where the player must face off against a villain who has stolen Om Nom's candy. The boss levels add a new layer of challenge to the game and require the player to use all of their skills to defeat the boss and save Om Nom's candy.

Overall, Cut the Rope 2 is a fun and addictive game that is suitable for all ages. Its charming graphics, cute characters, and challenging gameplay make it a must-play for puzzle game enthusiasts.
Information
Game category: Puzzles
Game Rating: 76%

PLAY
How to play this game:
In each level, you are presented with a candy that is tied to ropes and suspended in the air. Your task is to cut the ropes in a way that will allow the candy to fall into Om Nom's mouth while collecting as many stars as possible along the way. The ropes can be cut by swiping your finger across the screen, and you need to carefully plan your cuts to avoid any obstacles and ensure that the candy reaches its destination.

As you progress through the game, you will encounter new gameplay mechanics, such as balloons, bubbles, and spiders, which can make the levels even more challenging. You will also have access to power-ups, such as magnets and rockets, that can help you complete more difficult levels.

In addition to the regular levels, Cut the Rope 2 also features boss levels that require you to use all your skills and strategy to defeat the bosses and move on to the next level. The bosses are quirky and unique characters that add an extra layer of fun to the game.