Ice Princess Mommy Real Makeover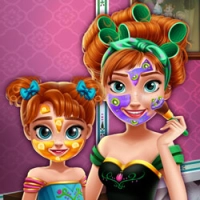 "Ice Princess Mommy Real Makeover" is a fun and exciting mobile game that allows players to take care of an adorable mother-daughter duo. The game features two characters - the ice princess and her little baby girl - both in need of a makeover.

In this game, the player will need to help the ice princess and her baby girl get ready for a day out by giving them a fabulous makeover. The game takes place in a virtual salon where you have access to all sorts of beauty tools and products.

Players can start by giving the princess and her baby a facial to make their skin look clean and glowing. Then, they can help them choose the perfect makeup to complete their look. From eye shadows and blushes to lipsticks and mascara, there are plenty of options to choose from.

Once the makeup is complete, players can move on to hairstyling. There are various hairstyles to choose from, ranging from updos to braids and curls. You can also add hair accessories like tiaras and headbands to complete the look.

The game also features a dress-up section, where players can choose from a range of fashionable clothes and accessories to create a stunning outfit for the princess and her baby girl. Once they are dressed and ready, players can take them out for a fun day of adventure.

Overall, "Ice Princess Mommy Real Makeover" is a fun and engaging game that lets players indulge in their passion for fashion and beauty. It's perfect for anyone who loves dress-up games and wants to enjoy some quality time taking care of their favorite characters.
Information
Game category: Makeover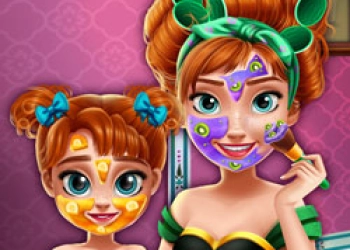 Game Rating: 79%

PLAY
How to play this game:
1. Start by giving the ice princess and her baby a refreshing facial to cleanse and moisturize their skin. Use various masks and creams to get the job done.

2. After the facial, it's time to work on their makeup. Choose from different shades of lipstick, eye shadow, and blush to create the perfect look for each of them.

3. Now it's time to choose their outfits. Select from a wide range of dresses, tops, skirts, pants, and accessories to give them a new and fashionable look.

4. Once their outfits are chosen, it's time to style their hair. Use a variety of hair styling tools to give them the perfect hairdo.

5. Finally, add some finishing touches with jewelry and other accessories to complete their makeover.

6. Don't forget to take a photo of your new mommy and baby and share it with your friends on social media!