Superhero Doll Manicure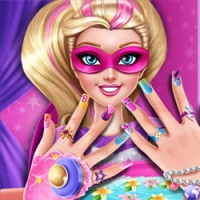 Superhero Doll Manicure is a mobile game that lets you give a virtual manicure to a blonde superhero doll. In this game, you will get to apply spa cream, cut and file her nails, and decorate them with different designs and colors.

To play, you first need to select your preferred language and then click on the "play" button. You will be directed to a screen with the blonde superhero doll, and you will be given various tools and nail polish colors to use.

You can start by applying spa cream to her hands and then cut and file her nails to the desired shape. After that, you can choose from a wide range of nail polish colors and designs to decorate her nails.

You can add stickers, glitter, and even different patterns to make her nails look glamorous. Once you are satisfied with your design, you can click on the "finish" button to save your work or go back to make some changes.

Overall, Superhero Doll Manicure is a fun and interactive game that allows you to unleash your creativity and imagination by giving a superhero doll a fabulous nail makeover.
Information
Game category: Makeover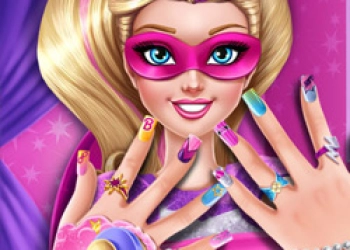 Game Rating: 84%

PLAY
How to play this game:
1. After launching the game, click on the "Play" button to start.

2. Next, you'll see the superhero doll's hand on the screen. Apply the spa cream by clicking and dragging it onto her hand. Then, use the sponge to clean her hand.

3. After cleaning the hand, use the nail clipper to trim the nails to your desired length. Use the nail file to shape them.

4. Once you've shaped the nails, it's time to decorate them! Click on the nail polish bottle and select your desired color. Apply the polish by clicking on each nail. You can also add stickers, gems, and other decorations by clicking on them and dragging them onto the nails.

5. After decorating the nails, you can also accessorize the superhero doll's hand by selecting bracelets and rings.

6. Once you're happy with the result, click on the "Done" button to see your final creation. If you want to start over, click on the "Reset" button to begin the process again.

7. Have fun creating amazing nail designs for the superhero doll!