Couple Hand Casting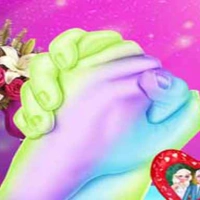 In the game "Couple Hand Casting", you can create a romantic memory for your characters by molding their hands together. This mobile game allows you to customize your couple's hand poses and decorate the cast with a variety of accessories.

As the game begins, you will be prompted to select a couple and customize their hand poses. There are several options to choose from, including clasping hands, holding hands, and more. Once you have selected the desired pose, you can move on to the casting phase.

In the casting phase, you will need to mix the molding powder and water together to create a mold. Carefully pour the mixture into the designated container and instruct the couple to dip their hands into the solution. Hold their hands in the solution until the mold has set.

Once the mold has set, carefully remove the hands from the mixture and let the cast dry. Once the cast has hardened, you can remove it from the mold and decorate it with a variety of accessories. Choose from a range of colors and designs to add a personal touch to your couple's keepsake.

Overall, "Couple Hand Casting" offers a unique and romantic experience for players looking to create a special memory for their virtual couples. The game's intuitive controls and customization options make it easy to use, while the ability to decorate the cast with accessories adds an extra layer of personalization.
Information
Game category: Girls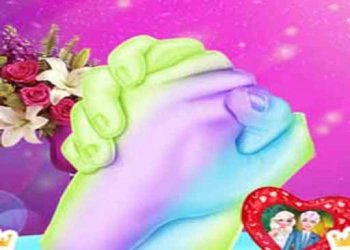 Game Rating: 76%

PLAY
How to play this game:
1. When you first open the game, you'll be prompted to select the gender of the couple you want to cast. You can choose a male and female couple, a female and female couple, or a male and male couple.

2. Once you've selected your couple, you'll need to start by mixing the casting material. Follow the instructions on the screen to mix the powder and water together in the provided bowl until you get a smooth consistency.

3. Once your casting material is ready, you can start the casting process. First, apply a layer of petroleum jelly to your hands to make sure the casting material doesn't stick.

4. Have one person hold their hand in the desired position while the other person pours the casting material over the hand, making sure to cover it completely.

5. After a few minutes, the casting material will start to harden. You can gently remove the cast from the hand and set it aside to fully dry and harden.

6. Once your hand cast is fully hardened, you can remove any excess material and sand down any rough edges with the provided sandpaper.

7. Finally, you can decorate your hand cast with paint or other embellishments to create a unique and personalized keepsake of your love.