Eliza E Girl Trendy Hairstyles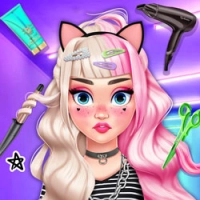 Eliza E Girl Trendy Hairstyles is a fun and trendy mobile game that allows you to be a hairstylist for the trendy and fashionable E Girl Eliza. You'll get to experiment with different hairstyles, hair colors, and accessories to create a unique look for Eliza.

The game features a variety of hairstyles to choose from, including classic styles like braids and updos, as well as more modern styles like ombre and rainbow hair. You can also experiment with different hair accessories, such as clips, headbands, and hats.

In addition to hair, you can also change Eliza's makeup and outfit to complete her look. You can mix and match different makeup looks, including eyeshadow, eyeliner, and lipstick, to create the perfect look for Eliza.

As you progress through the game, you'll unlock new hairstyles and accessories, allowing you to create even more unique looks for Eliza. You can also save and share your favorite creations with your friends.

Overall, Eliza E Girl Trendy Hairstyles is a fun and creative game that lets you explore your inner hairstylist and experiment with different looks for Eliza. It's perfect for anyone who loves fashion and beauty.
Information
Game category: Real_haircuts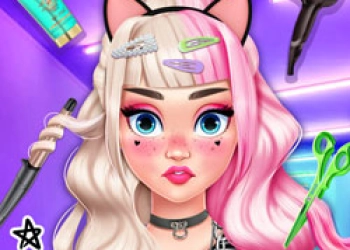 Game Rating: 75%

PLAY
How to play this game:
1. Choose the hairstyle: Start by selecting a hairstyle from the available options. There are many trendy and funky styles to choose from, so pick the one that you like the most.

2. Wash and dry the hair: Once you have selected the hairstyle, you'll need to wash Eliza's hair using shampoo and conditioner. Rinse it well and then dry it with a towel and a hairdryer.

3. Cut and style the hair: Use the scissors to cut Eliza's hair to the desired length, and then use the styling tools to create the hairstyle. You can straighten or curl the hair, add some waves or texture, and even dye it in different colors.

4. Accessorize the hair: Once you're happy with the hairstyle, you can accessorize it with different hairpins, clips, and headbands. There are many options available, so choose the ones that best complement the hairstyle.

5. Complete the look: Finally, you can complete the look by choosing a cool outfit and some makeup for Eliza. Experiment with different combinations until you find the perfect look.