Kitten Bath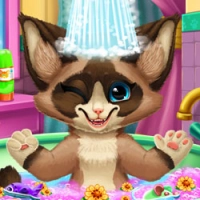 "Kitten Bath" is a fun and interactive mobile game that allows you to take care of a cute and fluffy kitten. In this game, you are responsible for giving the kitten a bath and making sure it stays clean and healthy.

As soon as you start the game, you will see the adorable kitten waiting for you in the bathroom. Your first task is to fill the bathtub with warm water and add some soap bubbles to make it more enjoyable for the kitten.

Once the bathtub is ready, you can put the kitten in and start washing it with a sponge. You will need to use the sponge to clean its fur and remove any dirt or debris that may be stuck to it. You will also need to make sure you rinse the kitten thoroughly with clean water to ensure that all the soap is washed away.

After the bath, you will need to dry the kitten with a towel and brush its fur to make it fluffy and soft. You can also add some accessories like a bow or a collar to make the kitten look even cuter.

As you play the game, you will unlock new items and accessories that you can use to customize your kitten's appearance. You can also earn coins and rewards by completing tasks and challenges, which you can use to purchase new items and upgrades for your kitten.

Overall, "Kitten Bath" is a fun and engaging game that will keep you entertained for hours as you take care of your virtual pet and watch it grow and thrive.
Information
Game category: Caring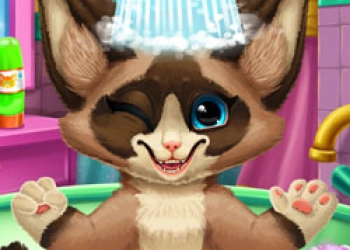 Game Rating: 73%

PLAY
How to play this game:
1. Start the game and select the kitten you want to bathe.

2. You will be taken to the bathroom where you will find the kitten sitting in a tub.

3. Use the showerhead to wet the kitten's fur.

4. Apply shampoo and scrub the kitten gently to clean its fur.

5. Rinse off the shampoo with the showerhead.

6. Use the towel to dry off the kitten's fur.

7. Finally, use a hair dryer to dry off any remaining wetness.