Kitty Room Prep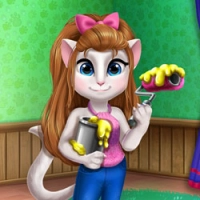 Kitty Room Prep is a fun and creative game for mobile devices where players get to decorate a kitty's room. In this game, players get to choose the color of the walls, the furniture, and the decorations, and create a cozy and comfortable space for their kitty to relax and play.

The game starts with players selecting the kitty they want to decorate a room for. There are several different kitties to choose from, each with their unique personalities and style. Once a kitty is selected, players can begin to decorate their room.

The first step is to choose the color of the walls. Players can choose from a variety of different colors and patterns to create a unique and personalized look. Next, players can select the furniture they want to include in the room, such as a bed, a dresser, and a desk.

Once the furniture is selected, players can add decorative items such as rugs, curtains, and wall art to complete the look. There are also several different kitty toys and accessories to choose from, such as scratching posts, kitty beds, and food bowls.

Players can use their creativity and imagination to create a room that reflects their personality and style. The game also includes a feature that allows players to take a screenshot of their finished room and share it with their friends on social media.

Kitty Room Prep is an enjoyable and entertaining game that allows players to express their creativity and imagination. It is suitable for players of all ages and provides endless hours of fun and enjoyment.
Information
Game category: Decoration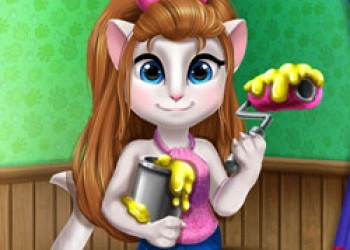 Game Rating: 77%

PLAY
How to play this game:
1. Choose a level: There are four levels in this game, each with a different room to clean up. You can choose from the kitchen, living room, bedroom, or bathroom.

2. Clean up the room: Once you've selected a level, you'll see a messy room with various items scattered around. Your goal is to clean up the room by placing the items in their correct places. For example, books should be placed on the bookshelf, toys should be put in the toy box, and clothes should be placed in the closet or laundry hamper.

3. Use hints: If you're stuck and don't know where to put an item, you can use a hint. Just tap on the hint button at the bottom of the screen, and it will show you where the item should go.

4. Earn stars: As you clean up the room, you'll earn stars for each item that you place in its correct spot. The more stars you earn, the better your score will be.

5. Complete the level: Once you've placed all the items in their correct spots, you'll complete the level and move on to the next one.

6. Customize the room: After completing each level, you'll have the option to customize the room. You can change the wallpaper, flooring, and furniture to create a unique and cozy space.

7. Play again: If you want to improve your score or try a different room, you can play the game again and see if you can clean up the room faster and more efficiently.