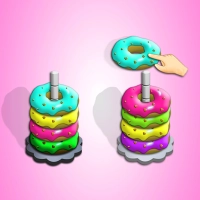 Donhoop is a fast-paced arcade-style game that is easy to learn but difficult to master. In this game, players take control of a hoop and must navigate through a series of obstacles to reach the end of each level.

The gameplay is simple: players must swipe left or right to move the hoop and avoid obstacles such as blocks, spikes, and gaps. The game features different modes, including Classic, Time Trial, and Endless, each with their own unique challenges.

In Classic mode, players must complete each level within a certain time limit while avoiding obstacles. In Time Trial mode, players must complete each level as quickly as possible while collecting coins along the way to earn points. Endless mode is a continuous level that increases in difficulty as players progress.

As players progress through the levels, they will encounter new challenges and obstacles, including moving blocks, rotating spikes, and disappearing platforms. The game also features power-ups, such as a magnet that attracts coins, a shield that protects the hoop from obstacles, and a boost that increases the hoop's speed.

Players can also customize their hoop by choosing from a variety of different colors and designs. Additionally, the game features leaderboards, allowing players to compete with friends and other players around the world for the highest score.

Donhoop is a fun and addictive game that is perfect for anyone looking for a quick and challenging gaming experience on their mobile device. Whether you're a casual gamer or a seasoned pro, Donhoop is sure to keep you entertained for hours on end.
As you progress through the game, the levels become increasingly challenging, with new obstacles and moving targets to navigate. You can earn points by making successful shots, and you can earn bonus points by hitting special targets or completing certain challenges.

Donhoop also has a variety of power-ups that can help you score more points and advance through the game. These power-ups include extra balls, slow motion, and bonus points.