Candy Tile Blast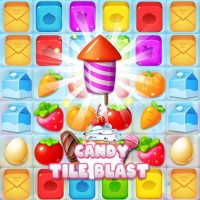 Candy Tile Blast is a colorful and addictive match-3 puzzle game that is available to play on mobile devices. In this game, the player is challenged to match and blast candies to complete different levels and progress through the game.

The game features various levels with different objectives such as achieving a certain score, clearing a specific number of candies, or collecting certain types of candies. The game board is filled with various candies of different shapes, sizes, and colors. The player needs to swap two adjacent candies to create a line of three or more matching candies. When a match is made, the candies will explode and disappear, and new candies will drop from the top to fill the gaps.

In addition to basic candy matching, the game also includes special candies and power-ups. By matching four or more candies, players can create special candies that can clear multiple rows and columns or clear all the candies of the same color. There are also power-ups that can help players complete the levels more easily, such as the bomb that can clear a group of candies, or the rainbow candy that can match with any other candy.

As players progress through the game, the levels become more challenging, and the objectives become harder to achieve. The game also features colorful and cute graphics, with different candy themes for each level. Players can compete with friends and other players to achieve the highest score and earn rewards.

Overall, Candy Tile Blast is a fun and entertaining puzzle game that can provide hours of addictive gameplay for players of all ages.
Information
Game category: Arcade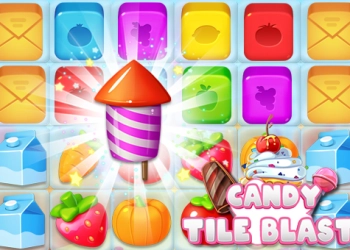 Game Rating: 70%

PLAY
How to play this game:
1. Launch the game and tap the play button to start.

2. Candy Tile Blast is a tile matching puzzle game where the goal is to clear the board by matching three or more candies of the same color.

3. To match the candies, simply swipe your finger horizontally or vertically to swap two adjacent candies.

4. Whenever you match three or more candies, they will disappear from the board, and you will earn points.

5. Keep matching candies to earn more points and clear the board. As you progress, the levels will become more challenging, and you will have to match more candies to complete each level.

6. Use power-ups to help you clear the board more efficiently. For example, the bomb power-up will clear a group of candies when matched, and the rainbow candy power-up can match with any other candy on the board.

7. Complete each level before running out of moves to progress to the next level.

8. If you get stuck, you can use the shuffle button to shuffle the candies on the board or the hint button to show you a possible move.

9. Earn stars by completing levels, and use them to unlock new worlds and levels.

10. Keep playing and try to beat your high score and climb the leaderboard!