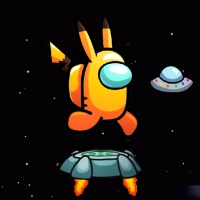 Among Them Space Run is an exciting endless runner game available on mobile devices. The game features the iconic characters from the popular game Among Us as they run, jump, and dodge their way through the depths of space.

In this game, players must help their chosen character run as far as possible while avoiding obstacles and collecting coins. The controls are simple, with players only needing to swipe left or right to move their character from side to side and swipe up to jump. The game's intuitive controls make it easy for players of all ages and skill levels to enjoy.

As players progress through the game, they will encounter various obstacles that they must overcome, such as asteroids, laser beams, and enemy ships. They can collect power-ups along the way, such as shields and magnets, to help them survive longer and collect more coins.

The game has multiple levels, each with its unique challenges and obstacles. As players progress through the game, the difficulty level increases, making it more challenging to survive for long periods. The game also features a global leaderboard, allowing players to compete against each other to see who can run the farthest.

The game's colorful graphics and fun sound effects make it an engaging and entertaining experience for all ages. Whether you're a fan of the Among Us game or just looking for an exciting and addictive endless runner game, Among Them Space Run is sure to keep you entertained for hours.
1. You will be taken to a space-themed platform with obstacles in your way. Your goal is to run as far as possible without getting caught by the enemies.

2. Use the left and right arrows on the screen to move your character in the respective directions.

3. There are also floating coins throughout the game that you can collect to increase your score.

4. Be careful of the enemies that are floating around in space. If you touch them, the game is over.

5. Use power-ups along the way to help you go further, such as a shield to protect you from enemies or a magnet to attract coins.

6. The game speeds up as you progress, so be prepared for more obstacles and enemies.

7. Your final score is determined by how far you were able to run and how many coins you collected along the way.

8. Try to beat your high score and challenge your friends to beat it as well.