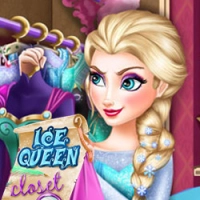 Ice Queen's Closet is a fun and exciting game that lets you take a peek inside the wardrobe of the elegant Ice Queen. As you explore her closet, you will discover a vast collection of fabulous outfits, stunning jewelry, and chic accessories. The queen needs your help to choose the perfect outfit for each occasion, so put your fashion skills to the test and create a look that will leave everyone in awe.

The game begins with a tour of the queen's closet, where you can see all her clothes and accessories displayed in front of you. You can browse through different categories such as dresses, shoes, bags, jewelry, and more. To unlock more items, you have to complete levels by dressing the queen in various outfits.

Once you have selected a category, you can scroll through different items to choose the perfect dress or accessory for the queen. There are many options to choose from, ranging from elegant gowns to casual outfits. You can mix and match different items to create your own unique style. Don't forget to add the finishing touch with some jewelry and a pair of shoes that match the outfit.

After you have created the perfect look, it's time to take a photo and show off your styling skills. You can save the photo to your device and share it with your friends to see who has the best fashion sense.

As you progress through the levels, you will encounter new challenges, such as dressing the queen for a particular event, or styling her hair in a specific way. With each challenge, you unlock new items that you can use to create even more amazing looks.

In summary, Ice Queen's Closet is a fashion game that provides endless hours of fun and creativity. With its stunning graphics, vast collection of outfits and accessories, and exciting challenges, it's the perfect game for anyone who loves fashion and styling.
1. Start the game and you will see the Ice Queen in her room with her wardrobe open.

2. Use your finger to swipe left or right to browse through the various categories of clothing and accessories, including dresses, tops, bottoms, shoes, and jewelry.

3. Tap on any item to select it and see how it looks on the Ice Queen. You can also drag and drop items onto the Ice Queen to dress her up.

4. Use the camera icon at the bottom of the screen to take a picture of the Ice Queen in her outfit.

5. Once you're happy with the outfit, you can save the picture to your phone or share it on social media.

6. You can also use the "Try Again" button to start over and create a new outfit.

7. As you play, you will unlock new items and categories to add to the Ice Queen's wardrobe.

8. Enjoy creating fun and stylish outfits for the Ice Queen in "Ice Queen's Closet"!