Cute Forest Tavern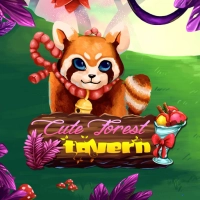 Cute Forest Tavern is a fun and charming mobile game where players get to run their own tavern in the heart of a magical forest. As the owner, it's your job to keep your customers happy by serving them delicious food and drinks while making sure the tavern is clean and cozy.

Players will start by choosing a character to play as, each with their unique personality and style. They will then have to manage the tavern by taking orders, preparing food, and serving drinks to the customers. As they progress through the game, they will unlock new recipes and ingredients to use, which will help them attract more customers and earn more coins.

The game features a variety of different customers, from friendly fairies to rowdy goblins, each with their own preferences and tastes. Some customers will prefer sweet treats, while others will want something savory or spicy. It's up to the player to figure out what each customer wants and serve them the perfect dish.

As players earn more coins, they can upgrade their tavern and make it even more attractive to customers. They can add new decorations, furniture, and even hire additional staff to help them manage the business. The ultimate goal of the game is to create a thriving and bustling tavern that's loved by all the creatures in the forest.

Cute Forest Tavern is a game that's easy to play but hard to put down. It features colorful graphics, delightful characters, and a charming soundtrack that will keep players entertained for hours. It's the perfect game for anyone who loves simulation and time management games, and who wants to escape to a magical forest world full of wonder and charm.
Information
Game category: Arcade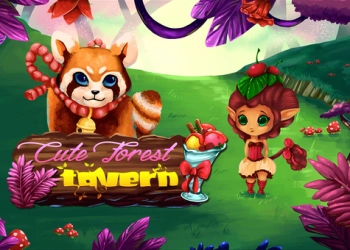 Game Rating: 50%

PLAY
How to play this game:
1. When you launch the game, you'll be greeted with a view of the forest tavern. Your goal is to help the cute animal customers by serving them drinks, food, and other items they may need.

2. To start, tap on a customer to see what they want. A thought bubble will appear above their head with the item they desire.

3. Head over to the appropriate station to prepare the item. For example, if a customer wants a drink, head over to the bar and tap on the drink they want. If they want food, head over to the kitchen and select the food item they want.

4. Once you've prepared the item, head back to the customer and tap on them again to serve it to them. They will give you coins as a reward for your service.

5. Use the coins you earn to upgrade your tavern and attract more customers. You can upgrade your kitchen to prepare more types of food, your bar to serve more types of drinks, and even add more tables and chairs to seat more customers.

6. As you progress through the game, new animal customers will arrive at your tavern, each with their own unique requests. Keep serving them and earning coins to become the most successful tavern owner in the forest!

7. Remember to keep an eye on the time - if you take too long to serve a customer, they will get impatient and leave, resulting in lost coins.