Bottle Rush
Bottle Rush is a fun and addictive mobile game that challenges players to complete various bottle flipping challenges. In each level, players will need to flip a bottle and make it land on a platform without falling off. The game features a variety of different obstacles, including moving platforms, conveyor belts, and more, making each level more challenging than the last.

Players will need to swipe the screen to flip the bottle and control its rotation in the air. The objective is to time the flip perfectly and land the bottle on the platform. Players can earn coins for successfully completing levels, and these coins can be used to unlock new bottles and upgrade existing ones.

Bottle Rush features simple and intuitive controls that make it easy to pick up and play, but challenging enough to keep players engaged for hours. With its colorful and vibrant graphics, players will find themselves immersed in the game's fun and lively world.

Overall, Bottle Rush is a great mobile game that provides hours of fun and challenge for players of all ages. With its addictive gameplay and challenging levels, it's no wonder why this game has become so popular among mobile gamers.
Information
Game category: Hypercasual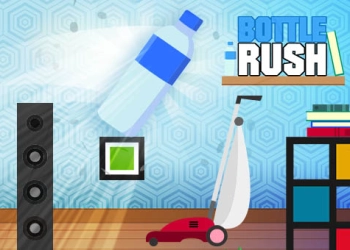 Game Rating: 68%

PLAY
How to play this game:
1. Launch the game: Find and launch the Bottle Rush game on your mobile device. The game has a simple and easy-to-use interface.

2. Tap the screen: When you start the game, the bottle will be lying on its side on the screen. Tap anywhere on the screen to make the bottle stand upright.

3. Time your taps: You need to time your taps correctly to keep the bottle standing. If you tap too hard or too quickly, the bottle will fall. If you tap too slowly, the bottle will not stand upright. Keep tapping to keep the bottle standing.

4. Avoid obstacles: The bottle will move forward automatically, and you need to avoid the obstacles in its path. These obstacles can be anything from small boxes to large barriers. Swipe left or right to move the bottle and avoid the obstacles.

5. Collect coins: As you progress through the game, you will see coins scattered across the screen. Collect as many coins as you can to increase your score.

6. Unlock new bottles: You can unlock new bottles by collecting enough coins. Each bottle has a unique design, and you can choose which one you want to use when you play the game.

7. Aim for high scores: The goal of the game is to get the highest score possible. Keep playing, collecting coins, and unlocking new bottles to improve your score and climb up the leaderboard.