Rainbow Pony Real Haircuts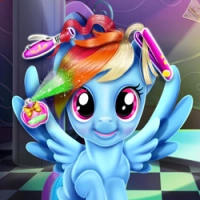 Get ready to have a blast styling your own magical pony with Rainbow Pony Real Haircuts! In this fun and colorful game, you'll get to play as a hair stylist for your very own pony, and create the most fabulous hairdos you can imagine.

You start by choosing your pony's hairstyle, from short and spiky to long and flowing. Then, it's time to get to work! Use your tools to cut, trim, and shape your pony's hair just the way you like it. You can even add highlights and dye the hair in all sorts of fun and vibrant colors.

Once your pony's hair is looking fabulous, it's time to add some extra pizzazz with accessories like hats, sunglasses, and even wings! Mix and match to create a totally unique look that's perfect for your pony.

And of course, no pony is complete without a fantastic outfit. Dress your pony up in all sorts of fun and funky clothes, from superhero capes to tutus to princess gowns.

With its bright and colorful graphics and endless possibilities for creativity, Rainbow Pony Real Haircuts is a game that's sure to delight anyone who loves ponies, fashion, and having fun!
Information
Game category: Real_haircuts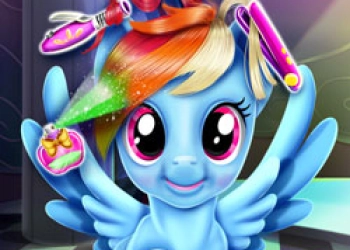 Game Rating: 78%

PLAY
How to play this game:
1. Choose a pony: You can select one of the four ponies to start the game. Each pony has a different color and hair length.

2. Wash and dry the pony's hair: Use the shampoo and water to wash the pony's hair. Then use the hair dryer to dry it.

3. Cut and style the hair: Use the scissors to cut the hair to your desired length. You can also use the comb and hair straightener to make the hair smooth and easier to cut.

4. Color the hair: Use the hair dye to color the pony's hair. You can choose from a variety of colors, including pink, blue, purple, and green.

5. Add accessories: Once you're done styling the pony's hair, you can add accessories like hair clips, ribbons, and hats. There are plenty of options to choose from!

6. Save and share: After you're done styling the pony's hair, you can save a picture of your creation to your device. You can also share it with your friends on social media.