Ice Cream Candy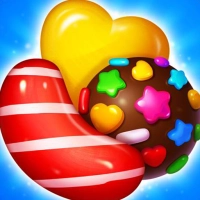 Ice Cream Candy is a fun and addictive match-3 puzzle game for mobile devices. The game is set in a candy-themed world and features colorful graphics, cute characters, and delicious treats. Your objective is to match three or more of the same type of candy or ice cream to earn points and progress through the levels.

The gameplay is simple and easy to pick up. To play the game, you just need to swap adjacent candies or ice cream to create a line of three or more identical pieces. When you make a match, the candies or ice cream will disappear, and you will earn points. If you create a line of four or more candies, you will get a bonus candy that can clear an entire row or column.

The game has several levels with increasing difficulty. As you progress, you will encounter obstacles such as blocks of ice, licorice, and chocolate, which make it harder to create matches. You will also have limited moves, and you need to reach the target score before running out of moves to complete each level.

To help you in your quest, the game provides power-ups such as rockets, bombs, and color bombs. These power-ups can help you clear large groups of candies and score big points. You can also earn coins by completing levels, which can be used to buy power-ups and extra moves.

Ice Cream Candy is a fun and addictive puzzle game that is perfect for players of all ages. With its cute graphics, challenging levels, and exciting power-ups, it's a must-play for anyone who loves match-3 games.
Information
Game category: Puzzle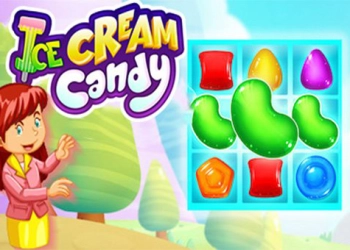 Game Rating: 83%

PLAY
How to play this game:
At the beginning of the game, you are presented with a grid of colorful ice cream cones and candies. Your goal is to swap adjacent cones or candies to create a matching group of three or more. When you match a group, they disappear from the grid and you earn points.

To beat each level, you must reach the target score within a limited number of moves. If you run out of moves before reaching the target score, you lose the level and have to start again.

As you progress through the levels, the game becomes more challenging with the introduction of obstacles such as chocolate blockers and locked candies. You must strategize and use power-ups like the hammer and the bomb to clear these obstacles and complete the level.

The game has a colorful and appealing interface with simple controls that allow you to easily swap and match ice cream cones and candies. The more you play, the more power-ups and boosters you can unlock, which help you beat the more difficult levels.