Beauty's Bookshop
Beauty's Bookshop is a mobile game that puts you in charge of a small independent bookstore. As the owner, your mission is to help your customers find the books they need, while also managing your inventory, marketing your store, and growing your business.

The game features a wide variety of book genres and customers with different tastes and preferences. Some customers may be looking for a bestseller, while others may be searching for a rare first edition. You must pay attention to their requests and recommend the right book to satisfy them. As you progress through the game, you will unlock new genres, authors, and book titles, making your shop a go-to destination for book lovers.

To keep your customers coming back, you'll need to keep your shop organized, clean, and well-stocked. You can purchase new bookshelves, tables, and decorations to create a cozy atmosphere that will appeal to your customers. You'll also need to manage your inventory and order new books as needed to ensure that you always have the right titles in stock.

Marketing is also a key component of the game. You can run promotions and sales, advertise in local newspapers, and even create social media profiles to attract more customers to your shop. You'll need to balance your marketing efforts with your budget to make sure you're getting the most bang for your buck.

Overall, Beauty's Bookshop is a fun and addictive game that will test your business skills and book knowledge. With its charming graphics, engaging gameplay, and endless book options, it's the perfect game for any book lover or aspiring entrepreneur.
Information
Game category: Decoration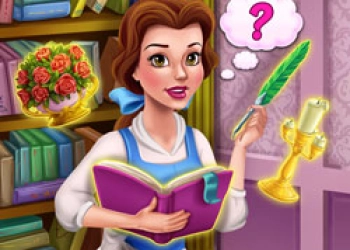 Game Rating: 83%

PLAY
How to play this game:
1. Opening the shop: Start by opening your bookshop for the day. The first thing you'll do is sweep the floors and tidy up the bookshelves to make sure everything looks neat and organized.

2. Greeting customers: As customers come in, greet them and ask if they need any help finding a book. They'll tell you what genre or topic they're interested in, and it's your job to find the right book for them.

3. Finding books: To find the book the customer is looking for, use the search bar at the top of the screen to search for books by title, author, or genre. Once you find the right book, click on it to take it off the shelf.

4. Checking out: After you've helped the customer find the book they're looking for, it's time to ring them up. Click on the cash register to bring up the checkout screen. Here, you'll be able to see the book's price and the total amount due. Click on the "Checkout" button to finalize the sale.

5. Restocking: Once the customer leaves, take the book they purchased off of the shelf and restock any empty spaces on the shelves.

6. Managing inventory: As you sell books throughout the day, make sure to keep an eye on your inventory levels. If a book starts to run low, it's time to order more from your suppliers. To do this, click on the "Inventory" button to see what books are in stock and what books you need to order.

7. Upgrading your store: As you make more money, you can use it to upgrade your store with new furniture, decorations, and even a coffee bar. These upgrades will attract more customers and help you sell more books.

8. Advancing to new levels: As you progress through the game, you'll earn experience points that will help you advance to new levels. Each new level will unlock new books to sell and new upgrades for your store.