Mermaid Princess Mistletoe Kiss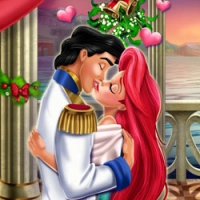 "Mermaid Princess Mistletoe Kiss" is a romantic mobile game that lets players experience the magic of the holiday season. In this game, players take on the role of the Mermaid Princess who is looking for her perfect kiss under the mistletoe.

Players can help the Mermaid Princess by creating a beautiful look for her with stunning makeup, a gorgeous hairstyle, and a festive outfit that will impress her love interest. They can choose from a variety of festive options such as holiday-themed clothing, accessories, and makeup to make her shine like a star.

The game also features a fun mini-game where players can collect as many mistletoes as they can while avoiding obstacles along the way. The more mistletoes they collect, the higher their score, and the closer they get to unlocking special rewards and surprises.

As the game progresses, players can unlock new levels, characters, and outfits to make their Mermaid Princess look even more stunning. With its charming graphics and engaging gameplay, "Mermaid Princess Mistletoe Kiss" is the perfect game for anyone looking for a romantic and festive adventure.
Information
Game category: Kissing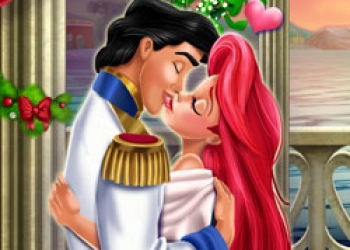 Game Rating: 71%

PLAY
How to play this game:
1. Choose an outfit: Before the princess can head out on her date, she needs to choose the perfect outfit. Scroll through the wardrobe to see all the available clothing items, and tap on the one you want to select it. Don't forget to add some accessories, too!

2. Get ready: The princess wants to look her best for her date, so it's time to do her hair and makeup. Use your fingers to apply lipstick, eyeshadow, and other cosmetics, and then style her hair by brushing, curling, or straightening it.

3. Navigate the obstacles: The path to the prince is full of obstacles, from rocks and coral to enemy sea creatures. Swipe left and right to avoid them and collect coins along the way.

4. Reach the prince: After navigating the obstacles, the princess finally reaches her prince. But she'll need to dodge one final obstacle to get her kiss under the mistletoe. Swipe up or down to avoid the obstacle and get the kiss.

5. Score points: The better your outfit, hair, and makeup look, the more points you'll score. You can try different combinations to see which ones work best.

6. Unlock new items: As you play, you'll unlock new outfits, hairstyles, and makeup options. Keep playing to collect them all and create even more stunning looks for the mermaid princess.