Kitty Hospital Recovery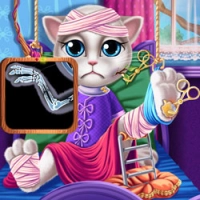 In Kitty Hospital Recovery, you play as a veterinarian who needs to take care of an injured kitty. The kitty has been in an accident and needs immediate medical attention. It's up to you to nurse the kitty back to health and make sure that it's happy and comfortable.

To begin the game, you'll need to start by checking the kitty's vital signs, including its temperature, heartbeat, and blood pressure. Once you have this information, you'll be able to determine the best course of treatment for the kitty.

Next, you'll need to clean and dress the kitty's wounds to prevent infection. You'll also need to administer any necessary medications to help with pain and healing. As you care for the kitty, you'll need to monitor its progress and make adjustments to its treatment plan as needed.

Once the kitty is feeling better, you can help it get back on its feet by providing exercises and activities to help it regain its strength. You can play mini-games with the kitty, feed it nutritious food, and even dress it up in cute outfits to keep its spirits high.

As you progress through the game, you'll encounter new challenges and situations that require your attention and expertise. But with your care and love, you can help the kitty make a full recovery and send it home with its happy and grateful owner.

Overall, Kitty Hospital Recovery is a heartwarming and fun game that allows you to take on the role of a veterinarian and care for a cute and lovable kitty. With its charming graphics, engaging gameplay, and intuitive controls, it's a game that's sure to capture the hearts of animal lovers of all ages.
Information
Game category: Caring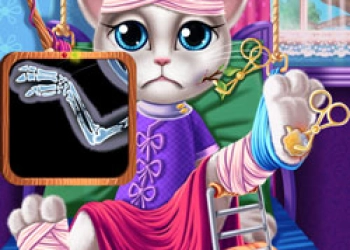 Game Rating: 81%

PLAY
How to play this game:
1. Open the game: First, locate and open the "Kitty Hospital Recovery" game on your mobile device. The game can be downloaded from various app stores or websites.

2. Choose your cat: Once you open the game, you will be presented with a selection of cats to choose from. Select the one you want to help and care for.

3. Start the treatment: Your cat will be injured or sick and require medical attention. Start the treatment by following the on-screen instructions. You will have to use different tools and medical supplies to diagnose and treat your cat's illness or injury.

4. Complete different mini-games: During the treatment process, you will be prompted to play different mini-games to help your cat recover faster. These games could include matching games, puzzles, and more.

5. Decorate your cat's room: After the treatment, you will have to decorate your cat's room to make it comfortable and welcoming. You can choose from a variety of decorations, including furniture, toys, and more.

6. Take care of your cat: Once your cat is settled into its new room, you will have to take care of it by feeding it, playing with it, and keeping it clean.

7. Repeat with different cats: If you enjoyed the game, you can repeat the process with different cats, each with their own unique illnesses or injuries.