Paw Care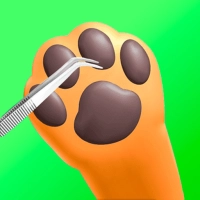 Paw Care is a mobile game designed for animal lovers and aspiring pet owners. In this game, you get to take care of your very own furry friend and make sure they are healthy and happy.

You begin by choosing your pet - a cat or a dog - and then proceed to the virtual pet care center. Here you can take care of your pet's needs, such as feeding, grooming, playing, and cleaning. You will also need to make sure your pet gets enough exercise, so they stay fit and healthy.

The game has various levels of difficulty, and as you progress, you will face more challenging tasks. For example, you may need to give your pet medicine, take them to the vet, or even deal with an emergency situation. You will need to use your problem-solving skills to keep your pet healthy and happy.

As you take care of your pet, you can earn coins and unlock new items such as toys, food, and grooming tools. You can also personalize your pet's look with various accessories such as collars, hats, and bows.

The game has vibrant graphics and cute animations that will appeal to animal lovers of all ages. It's a great way to learn about pet care and responsibility while having fun. So if you love pets, download Paw Care and start taking care of your virtual furry friend today!
Information
Game category: Hypercasual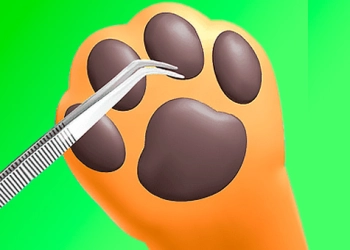 Game Rating: 76%

PLAY
How to play this game:
1. Start the game and select a pet: When you open the game, you'll be prompted to choose a pet to take care of. You can choose from a range of adorable animals like cats, dogs, rabbits, and more.

2. Give your pet a bath: The first step in taking care of your pet is giving it a bath. You'll need to fill a tub with warm water and use soap and a sponge to clean your pet. Rinse off the soap with water and dry your pet with a towel.

3. Brush your pet's fur: After your pet is clean and dry, use a brush to groom its fur. This will keep your pet's coat healthy and shiny.

4. Trim your pet's nails: If your pet's nails are too long, they can cause discomfort or even lead to health issues. Use a pair of clippers to carefully trim your pet's nails.

5. Feed your pet: Your pet needs to eat to stay healthy and happy. Follow the game's instructions to prepare a meal for your pet. You may need to chop up vegetables, cook meat, or mix other ingredients to create a balanced meal.

6. Play with your pet: Pets love to play! Use the game's interactive toys to play fetch, tug-of-war, or other games with your pet. This will keep your pet entertained and help it get some exercise.

7. Give your pet medicine: If your pet gets sick, you'll need to give it medicine to help it feel better. Follow the game's instructions to give your pet the correct dosage of medicine.

8. Put your pet to bed: After a long day of playing and taking care of your pet, it's time for bed. Put your pet in a cozy bed and turn off the lights to help it sleep.