Snow White Baby Bath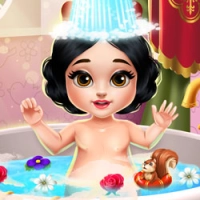 Snow White Baby Bath is a fun and interactive mobile game designed for kids. In this game, players will take care of Snow White and give her a relaxing and enjoyable bath.

As the game starts, players will see Snow White lying in a bath full of bubbles. The player's task is to give Snow White a proper bath by using various tools and products. Players can use soap and a sponge to clean Snow White's skin, shampoo to wash her hair, and a shower to rinse off any residue. After that, players can use a towel to dry Snow White's hair and body.

In addition to cleaning, players can also play with Snow White during her bath. There are various toys and objects that players can use to keep Snow White entertained. Players can use rubber ducks, bubbles, and other toys to make bath time more enjoyable.

Once Snow White is clean and dry, players can choose from a variety of outfits for her to wear. There are several cute and colorful dresses, tops, skirts, and accessories to choose from, allowing players to give Snow White a stylish and fun look.

Overall, Snow White Baby Bath is an entertaining and engaging game for kids who love princesses and fun bath time activities. With simple gameplay and cute graphics, this game is perfect for young children who want to have fun while taking care of their favorite princess character.
Information
Game category: Caring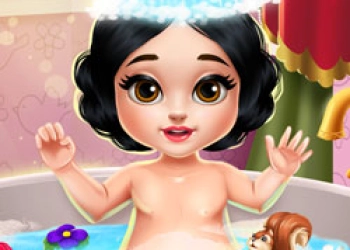 Game Rating: 72%

PLAY
How to play this game:
1. Start the game by clicking the "Play" button on the main menu screen.

2. You will then be taken to the bathroom where Snow White is waiting for her bath.

3. Click on the various items located around the bathroom to interact with them. You can drag and drop these items onto Snow White to use them on her.

4. Begin by filling up the bathtub with water. Click on the faucet to turn it on and off.

5. Once the bathtub is filled with water, click on Snow White to place her in the tub.

6. Use the sponge to apply soap on Snow White's body, then use the showerhead to rinse the soap off.

7. Use the towel to dry Snow White off, then brush her hair and teeth.

8. Once you're done, you can dress Snow White up in cute and stylish clothes by clicking on the wardrobe located on the right side of the screen.

9. After you've chosen an outfit for Snow White, you can save your creation by clicking on the camera icon located on the left side of the screen.
10. Congratulations, you've completed the game!