Face Paint Party! Girls Salon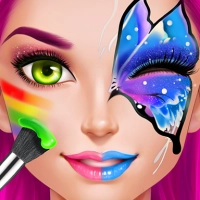 Face Paint Party! Girls Salon is a fun and creative game that allows you to experiment with face painting and create your own unique designs. With a variety of tools and colors at your disposal, you can let your imagination run wild and create the most stunning face art.

The game features a wide range of face paint designs, from cute and playful to elegant and sophisticated. You can choose from different categories such as animals, flowers, superheroes, and more, and use your artistic skills to bring these designs to life.

To get started, simply choose the face paint design that you want to create and select the appropriate colors and tools. You can use brushes, sponges, and other accessories to apply the paint and add intricate details to your masterpiece.

The game also features a variety of backgrounds and stickers that you can use to enhance your designs and make them even more fun and creative. You can take pictures of your completed designs and save them to your device to show off to your friends and family.

Whether you're looking for a fun way to pass the time or you want to explore your creative side, Face Paint Party! Girls Salon is the perfect game for you. With its easy-to-use interface, endless customization options, and stunning visuals, it's sure to provide hours of entertainment and enjoyment.
Information
Game category: Hypercasual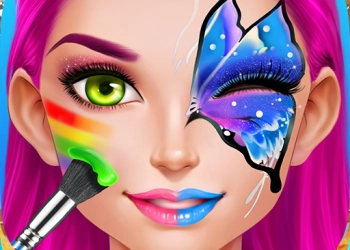 Game Rating: 71%

PLAY
How to play this game:
1. Choose a character: When you first open the game, you'll see several characters to choose from. Pick the one you want to give a face paint makeover to.

2. Clean the face: Before you start painting, you need to clean the face of the character. Use the sponge and soap to wash the face and remove any dirt or oil.

3. Design the face paint: Once the face is clean, it's time to design the face paint. You'll see a palette of colors and various design patterns on the left side of the screen. Select the color you want to use, and then choose the design. You can use the paintbrushes, stamps, and other tools to create the design you want.

4. Add accessories: After you finish the face paint design, you can add accessories to complete the look. There are stickers, jewels, and other decorations to choose from. You can also change the background to make it more colorful and fun.

5. Save and share: Once you're done with the face paint design, you can save the picture to your device or share it on social media with your friends.

6. Play mini-games: In addition to designing face paint, there are also mini-games to play. These include a memory game and a bubble popping game.