Sleeping Princess Villain Cosplay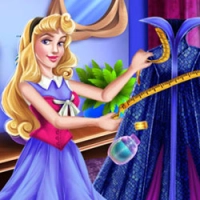 In the game "Sleeping Princess Villain Cosplay," you get to experience a different side of the classic fairytale. This time, you'll help Sleeping Beauty transform into a notorious villain, like Maleficent or Ursula.

As the game begins, Sleeping Beauty is feeling bored with her life as a princess and wants to try something new. She decides to dress up as a famous villain, and that's where you come in. You'll need to help her create a stunning villain look that's sure to impress.

To start, you'll get to choose which villain Sleeping Beauty will emulate. You can choose from several classic Disney villains, like the Evil Queen, Cruella de Vil, or the Queen of Hearts. Once you've made your selection, you'll begin by applying makeup to Sleeping Beauty's face. You'll get to choose from a range of colors and styles to create a dramatic, villainous look.

Next, it's time to pick out the perfect outfit. You'll get to choose from a variety of villain-inspired dresses, tops, and bottoms. Each piece of clothing is carefully designed to look like it was pulled straight out of a Disney movie. You'll also get to select a pair of shoes and some accessories, like a wicked hat or a pair of sinister gloves.

Once Sleeping Beauty is fully dressed, it's time to take some photos. You'll get to pose her in front of a villain-themed backdrop and take snapshots of her new look. You can save your photos to your device and share them with your friends.

Overall, "Sleeping Princess Villain Cosplay" is a fun and creative game that allows you to explore a darker side of the classic Sleeping Beauty fairytale. It's a great game for fans of Disney villains, cosplay, or anyone who loves to experiment with fashion and makeup.
Information
Game category: Dress_up
Game Rating: 79%

PLAY
How to play this game:
1. Choose a Villain: In this game, you get to dress up the Sleeping Princess as a villain. First, select which villain you want to dress her up as. You can choose from Maleficent, Ursula, and the Evil Queen.

2. Apply makeup: After selecting the villain, you need to apply the appropriate makeup. Use your makeup skills to transform the Sleeping Princess into the chosen villain.

3. Dress up: Once the makeup is done, it's time to dress up the Sleeping Princess. You can choose from a wide range of dresses, accessories, and shoes to give her a complete villainous look.

4. Complete the look: To complete the villainous look, you can add horns, wings, and other accessories that match the villain's look.

5. Share your creation: Once you're satisfied with your villainous Sleeping Princess, you can save the image and share it with your friends.