Beauty Baby Bath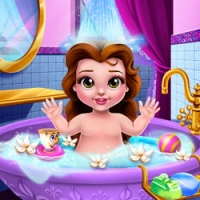 "Beauty Baby Bath" is a fun and interactive mobile game that is designed for young children to enjoy. The game is set in a bathroom, where the player takes care of a cute baby and helps them take a bath.

In the game, the player will start by selecting a baby to care for. The baby will be sitting in a bathtub filled with water and bubbles. The player can then use various tools to clean the baby, such as a sponge, a washcloth, and shampoo.

To clean the baby, the player needs to tap and drag the tools to the right areas of the baby's body. For example, the player can use the sponge to clean the baby's face and the washcloth to clean the rest of the body. The player can also use the shampoo to wash the baby's hair and rinse it off with water.

As the player progresses through the game, they will encounter different challenges that require them to use specific tools or perform different tasks. For example, the player may need to remove a splinter from the baby's foot or apply lotion to their skin.

Overall, "Beauty Baby Bath" is a fun and engaging game that helps children learn about personal hygiene and how to take care of a baby. With its colorful graphics and easy-to-use interface, this game is perfect for kids who love playing with dolls and pretending to be parents.
Information
Game category: Caring
Game Rating: 78%

PLAY
How to play this game:
1. Start the game by tapping on the app icon on your mobile device.

2. Once the game is loaded, you will see a cute baby in a bathtub, waiting to be cleaned.

3. Your job is to give the baby a bath by following the instructions on the screen.

4. First, use the showerhead to rinse off any dirt and bubbles from the baby's body. You can adjust the temperature and water pressure of the showerhead by tapping on the buttons on the screen.

5. Next, use the sponge to lather up soap and clean the baby's body. Use the sponge to clean the baby's face, arms, legs, and other body parts.

6. Once the baby is all soaped up, use the showerhead again to rinse off the soap and bubbles.

7. After the baby is clean, it's time to dry them off. Use the towel to dry off the baby's body. Be gentle and make sure to dry off all the water.

8. Finally, you can apply lotion and powder to the baby's skin to keep it soft and smooth.

9. Once you've completed all the steps, the game will give you a score based on how well you performed. Try to get a high score by completing the bath as quickly and efficiently as possible.